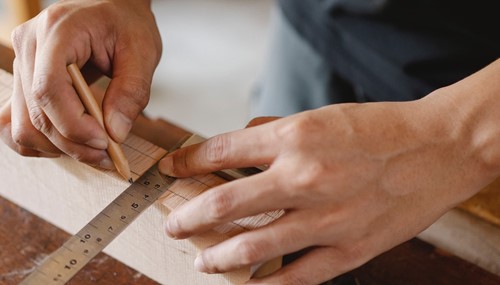 Woodworking is the perfect way to combine DIY and home decor. You can make countless beautiful and functional pieces to enhance your personal style and improve your quality of life. Using reclaimed wood is especially beneficial because you can recycle materials that would otherwise go to waste. Here are some simple DIY ideas to add homemade reclaimed wood to your home.
Wooden Doormat
At first, a wooden doormat might not seem as useful as one made of jute or other thickly woven material. However, by arranging wood slats in a diagonal pattern, you create an excellent surface for scraping mud, snow or dirt from the bottoms of your shoes. It's easy to do, too: just cut the wooden planks to the desired size and attach them to a rectangular frame with wood glue or a nail gun.
Wooden Headboard
Reclaimed wooden headboards are all the rage in rustic and farmhouse interior design and for good reason. Not only can they make a bold but classic statement in the bedroom, they are an efficient way to use up an entire pallet of wood. To create a headboard using wood pallet planks, it's as easy as sanding the surfaces carefully and securing it to the wall. The open slats create an instant rustic look while also giving you the option for creative lighting and decoration.
Wooden Key Holder
It doesn't get much easier than a wooden key holder for DIY crafting. It also doesn't get more versatile: this project has countless options in terms of style, color, size and shape. You can create key holders by treating your choice of wood and carefully adding wall hooks with a drill or hammer. For an eclectic look, mix up different hook styles and finishes. Once the hooks are attached, all you need to do is secure the wood to the wall and you have a simple and functional piece of wood decor.
Wooden Box End Table
While most DIY wood decor is on the rustic side of the design spectrum, you can also use reclaimed wood to make excellent modern pieces. One excellent option is to use a plywood box to create a mid-century modern style nightstand or end table. You can create or buy a pre-made box and then attach metal hairpin legs for an easy modern look. You can find hairpin leg kits at any hardware or home improvement store in a variety of sizes to fit your needs.
Wooden Cutting Board
The wooden cutting board may seem like a "basic" craft, but it's one of the most useful. It's also a simple way to make beautiful handmade gifts for housewarming or other occasions and know that it will be helpful to its new owner. Cutting boards require hardwood in order to withstand knife cuts, so it may be more effective to purchase new wood rather than forage for discarded pieces. Adding a stain will give it a deep and professional look and treating it properly with oil before use will insure it stays looking and working its best without water damage.
These are just a few of the great woodworking projects you can try to add handmade character to your home decor. Once you learn the basics of woodworking, the world of DIY home decoration will open for you.